Which Phase of DHA Lahore Property Is Best for Investment?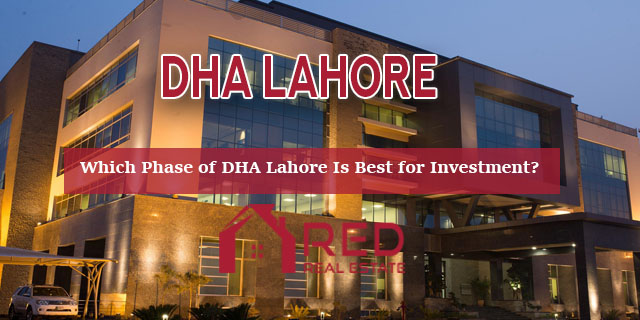 DHA is a very captivating housing project. It is designed with modern and smart features, this is the reason that the popularity of the project increasing day by day. DHA Lahore Property is simply art green destination to live a luxury lifestyle.
Making the investment in DHA Lahore Property is a great opportunity along with residence and it is a great source of earing as well. So today we are going to discuss the investment opportunities in the 5 different phases of DHA Lahore so that it would be easy for you to choose the best desired one.
DHA Lahore Phase 5
The Investment in DHA phase 5 will provide you with the minimum return. But still, there are many concerned investors who like to invest in phase 5. If you invest in B Block and D Block then it might be the only riskier investment which may not return you with a great profit. According to the latest market concern, M Block D Block E Block and F Block see an increase in prices.
DHA Lahore Phase 6
On a yearly basis, there is a steady increase in the prices of residential plots of DHA phase 6. This is strategy is only considerable for residential plots with possession. while talking about the commercial area DHA phase 6
, It offers attractive and profitable to invest in the commercial plots of Main Boulevard.
DHA Lahore Phase 7
Nearly the plots that have been given possession has witnessed an increase in prices. There is no significant increase in the commercial polt prices of DHA Phase 7 has been observed. Red Marketing & Real Estate suggests buying the upper portion in DHA phase 7 because the prices of the upper portion of Phase 7 have not jumped yet. This will appear as a good option for the short term investment.
DHA Lahore Phase 8
In the residential Plots, there is no significant change in the prices but in the commercial plots there has been a significant decline is observed. So this is a time to avail a good opportunity to buy in Broadway phase 8. It can become a reason for higher investment as the prices of the commercial plots are low.
To Invest in Z block Phase 8 is a profitable option for the investor as the prices are too low. We wish that this investment will return you with handsome profit in next one to two years. There is another good option
for profitable investment in z6 commercial and 5 Marla in Z4 Block
DHA Phase 9 Prism
For those investors who are willing to make a good investment in DHA Lahore, phase 9 is the most attractive opportunity. If you will show interest invest in residential property of phase 9. While it will return you a good profit after some time. But buying commercial plots is not an attractive opportunity as it will take 6 to 7 year of time to mature
DHA Phase 9 Town
To buy phase 9 town has highly recommended as it is the best time to make the best investment. However,  DHA Phase 9 town is an excellent choice for residence and investment as the prices of the plot would rapidly go up as.
We have already discussed the best investment option in DHA Lahore Property to a good return.  Before making an investment in any of the property in DHA, Just contact Red Marketing & Real Estate.  You'll find an able companion in Red Marketing & Real Estate.