Why DHA Phase 8 is the great option for Investment?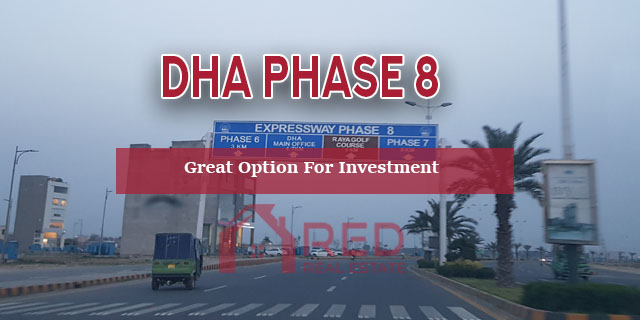 Red Marketing & Real Estate isn't just one of the leading real estate network of Pakistan. We are a one-stop-shop with regards to all matters concerning real estate. We provide astute real estate service. Our responsibility is to guide our customers in the most ideal whereby they can buy the right property regarding their financial budgets and preference. Today we will shed light on DHA Phase 8 opposite to phase 6.
Why DHA Phase 8 is a great option for Investment?
DHA Lahore phase 8 has 7 blocks (S, U, V, T, W, X, Y). This is the main part of DHA Lahore and an ideal Option for investment and building a house Because of its location and planning. After the success of DHA phase 5 Prices are too much high because of its planning and location, Now its the right time to invest or build a house in DHA Phase 8 proper. Furthermore, it has 2 Kanal plots on main Boulevard and a Wide green Belt which makes it a desirable location.
Prime Location
The main entrance of Phase 8, DHA is from from the airport which makes it a perfect location. Besides it has other entrance too like that from Barki road, Bhatta Chowk, Ring road and phase 6.
Phase 8 Residential Plots Size :
Basically, there are 5 categories of residential plots available.
5-Marla
8-Marla
10-Marla
1-Kanal
2-Kanal
S Block
This block is on the side of Barki Road, where one of the main entrances is located. However, the remaining blocks are considered offside close to the Lahore Ring Road interchange.
T Block
Here some plots are considered prime location plot. Because they are opposite to the most expensive and prime block of Phase 8 W Block.
U Block
Since a high tension wire passes over it, half of the blocks are a bit less desirable for the genuine buyers. The other half is considered ideal because it has the largest park over 135 Kanals.
V Block
It also facing the problem of high-voltage transmission lines, because is close to U Block. However,  some plots are considered good location plots in close proximity to U Block Park.
W Block
It is the most dominant Block of Phase 8. There are no land pockets and graveyards. In addition, two main entrance of Phase 8 & phase 6 is connected to it. Moreover, it is ideally located in the centre of DHA phase 8.
Y Block
Located to the opposite side of Lahore ring road and close to Nawaz Sharif Interchange. Possession is available for 1 Kanal Plots. Moreover,  5-marla, 8-marla and 10-marla residential plots are under development work.
Commercial Area
Hence, It has three commercial areas, CCA1, CCA2 and Broadway commercial in DHA Phase 8. Where the plot sizes are 4, 8 and 16 Marla.
The biggest park in DHA
It has the largest theme Park, over 135 Kanals in DHA, It is the biggest attraction of Phase 8, DHA Lahore.
Good Return of Investment:
If we talk about the Return on investment Phase 8 is a surprisingly gainful option for coming years. While, it is best to buy to hold it for the mid-term investment. In the next few years, it will give you a good return on investment. DHA Phase 8 is the main entrance from the airport which makes it a perfect location. Besides it has other entrance too like that from Barki road, Bhatta Chowk, Ring road and phase 6. A large park of 135 Kanals adds something more to its attractiveness. Each sector has its own park too. At this time possession in all blocks expect X block.
Salient Feature
High Standard Town Planning
State Of The Art Infrastructure
Golf Course
Commercial Hub
Lush Green Parks
Sports Parks
Elite Institutes
Grand Shopping Malls
Parking Plaza
Five Star Hotel
Kids Campus
Hospitals
DHA Phase 8 Houses for sale
This is the ideal location for houses. DHA Lahore is completely developed. On one hand, houses are under construction, on the other hand, many families have started living here. While all blocks have possession expect X Block. Hence, Dream houses for sale are available in DHA Phase 8. In the near future, this phase is going to be a demanding place in DHA market and a high standard living area indeed.