DHA Gujranwala | File Rates | Prices | Balloting Date | Map | 2023
---
DHA Gujranwala Allocation (5-Marla)
24.00 Lac

Saddam Ul Haq

0305 4177722
DHA Gujranwala Affidavit (5-Marla)
25.00 Lac

Saddam Ul Haq

0305 4177722
DHA Gujranwala Allocation (10-Marla)
39.00 Lac

Saddam Ul Haq

0305 4177722
DHA Gujranwala Affidavit (10-Marla)
41.00 Lac

Saddam Ul Haq

0305 4177722
DHA Gujranwala Allocation (1-Kanal)
63.50Lac

Saddam Ul Haq

0305 4177722
DHA Gujranwala Affidavit (1-Kanal)
67.00 Lac

Saddam Ul Haq

0305 4177722
DHA Gujranwala Affidavit (4 Marla ) Commercial
138 Lac

Saddam Ul Haq

0305 4177722
Project/Phase/ /Plot No/Price In Lac/Size
Contact
Updated
Notes
DHA Gujranwala Map
Gujranwala Transfer Fee
( DHA Gujranwala Residential Plots For Sale (code Your Plots For Best Rates) )
DHA Gujranwala Phase 1 G4 Block Near Plot No 23 (95 Lac Demand = 20 Marla

Saddam Ul Haq

03054177722
09/06/2023
Near To Park
DHA Gujranwala Phase 1 M2 Block Near Plot No 75 ( 85 Lac = 20 Marla )

Saddam Ul Haq

03054177722
09/06/2023
Near To Park
DHA Gujranwala Phase 1 G4 Block Near Plot No 364 ( 93 Lac = 20 Marla )

Saddam Ul Haq

03054177722
09/06/2023
Good Location
DHA Gujranwala Phase 1 G4 Block Near Plot No 25 ( 90 Lac = 20 Marla )

Saddam Ul Haq

03054177722
09/06/2023
Prime Location
DHA Gujranwala Phase 1 G2 Block Near Plot No 486 ( 65 Lac = 10 Marla )

Saddam Ul Haq

03054177722
09/06/2023
Prime Location 40 Ft Road
DHA Gujranwala Phase 1 G1 Block Near Plot No 367 ( 65 Lac = 10 Marla )

Saddam Ul Haq

03054177722
09/06/2023
Prime Location 40 Ft Road
DHA Gujranwala Phase 1 K2 Block Near Plot No 439 ( 32 Lac = 5 Marla )

Saddam Ul Haq

03054177722
09/06/2023
On 60 Ft Road
DHA Gujranwala Phase 1 C1 Block Near Plot No 233 ( 38 Lac = 5 Marla )

Saddam Ul Haq

03054177722
09/06/2023
60 Ft Road And Near Park
DHA Gujranwala Phase 1 C4 Block Near Plot No 480 (40 Lac = 5 Marla )

Saddam Ul Haq

03054177722
09/06/2023
Direct Access To 100 Ft Road & Park
( DHA Gujranwala Commercial Plots For Sale )
DHA Gujranwala Phase 1 CZ3 Block Near Plot No 73 ( 325 Lac= 4 Marla )

Saddam Ul Haq

03054177722
08/11/2022
Best Approach To Main
DHA Gujranwala Phase 1 Z2 Block Near Plot No 23 & 24 (600 Lac = 4 Marla Pair )

Saddam Ul Haq

03054177722
08/11/2022
Investor Rate Best Investment Possession Plots Are Offered
ARY Laguna Gujranwala Launching Date Announced
DHA Gujranwala | Balloting Date | Balloting Result | 2021
DHA Gujranwala shares good news for its members through its official Facebook page. Finally, announced the first Location Balloting date of the first Phase for both residential and commercial plots. The First Location Ballot of phase 1 is taking place on the 8th of October 2021.
DHA also announced that the ballot results will be made available in 24 hours on its official website. Categories included in the ballot are full-paid commercial and residential options. All 5 marla residential files will be included, whereas 10 Marla and 1 Kanal ballot will be partial. The ceremony will be broadcast live.
DHA Gujranwala | 5 Marla | 10 Marla | 1 Kanal | Balloting Results 2021
DHA Gujranwala 1st Location Balloting of residential and commercial plots will take place today. Balloting Ceremony will commence in the evening. The balloting date is Friday, October 8, 2021. All Commercial and Residential categories are included in the balloting results. All 5 Marla and Commercial plots will be included, however, 10 Marla and 1 Kanal will be in limited numbers in the first-ever ballot. For the Ballot results, you can also send your details. We will check on your behave and send your ballot details as soon as possible.
1) Your Complete Name
2) Your CNIC Number
3) Your Allocation Number (01/OL/00__) For Ballot Results
DHA Gujranwala Balloting 2021 Highlights
Residential Plots 10,000.
Commercial Plots 300.
 Reduction in Villas payment plan from 1.5 years to 2 years.
 Reduction in Apartments down payment.
 ARY Laguna to be launched soon.
Number of Residential & Commercial Plots
Residential plots
5 Marla: 1402.
8 Marla: 24.
10 Marla: 1482.
1 Kanal: 1348.
Commercial Plots
4 Marla: 160.
8 Marla: 72.
Important Update
DHA Gujranwala Launches Villas, Apartments and Commercial Plots, Limited application forms are available. For further details visit its official website.
5,6 and 10 Elegant Villas with posh living  ( Limited Forms are available the Last Date is 18th July )
4 & 8 Commercial Plots ( Limited Forms are available the Last Date is 18th July )
Luxury Apartments Where you enjoy luxury & convenience at one-stop ( Limited Forms are available the Last Date is 31st July )
DHA Gujranwala is nationally perceived corporate organization that has endeavoured to provide; to the people of Pakistan, an opportunity to live the inventive models of modern lifestyle. Furthermore, the Project is introduced by modern designs in the construction of houses, infrastructure and essential associated facilities. While it is located in central Punjab, Gujranwala is an industrial hub of Pakistan and is in close proximity with the cities of Sialkot, Gujrat, Kharian and Jehlum. Particularly designed to facilitate who desires to lead an attractive and peaceful life with the majority of its viability.
In addition, It almost comes with all necessities of life including 18 hole golf course, shopping mall, sports complex, business square, peaceful, pleasant environment and security guarantees. Therefore it will give you a standard living lifestyle to its residents i.e, international standard school and colleges, world standard hospital, recreational Parks etc. It also has designed to meet the High-Quality Development standards which include.
Sailent Feature
State of the art Housing Project
Filled with all modern amenities
High Standard Living Facilities
Lavish Shopping Mall
Lush Green Parks
Education City
5 Star Hotel
Unmatched Recreational Facilities
Sport Stadium
Healthcare Centers
Grand Mosque
Wide Roads / Green Belt
Underground Electricity
Water Filtration Plants
Grid Station
24/7 high security
Read More: ARY Laguna DHA Gujranwala
DHA Gujranwala Location
It is ideally located near to the Rahwali Cantt Chenab gate while it is 8 to 12 Km far from the main Gujranwala city. It has several entrances directly from GT road and direct access from Gujranwala Cantt.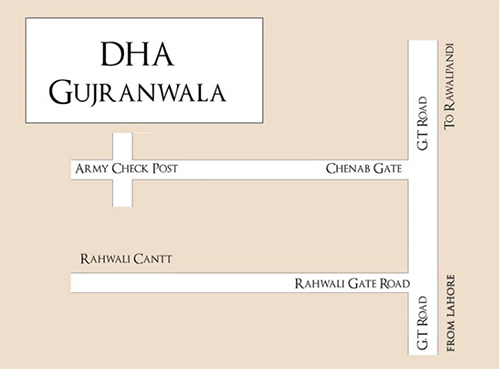 Benefits of living in Gujranwala, DHA
DHA is well known as Modern Town Planning and World-Class Facilities.
Besides, offers a high standard of living to make your life enjoyable.
Easy Access to all top-notch facilities like Schools, Hospitals and Restaurants.
Gated and secured community.
Elite education facilities in the close proximity.
In terms of entertainment facilities, DHA provides cinemas, golf clubs, recreational parks and children's playgrounds etc.
Equipped with all modern amenities.
Demographics
Gujranwala is the 7th most populous city in Pakistan with a population of nearly 3 million. Hence, It is known as an industrial city as huge business background and community. Right now just a few regulated societies exist in the area which includes DC colony and City Housing. However, DHA has developed here a huge gap in modern & world-class societies, as offered by DHA. Besides, It has a great opportunity for Gujranwala residents to enjoy a luxury lifestyle in the top-notch and gated community.
In addition, you should consider the area around DHA Gujranwala close to Lahore, Sialkot, Wazirabad, Gujarat. Which makes it an attractive investment opportunity for the local people.
DHA Gujranwala Files
Hence, it offered just 10 Marla and 1 Kanal residential files are available for sale on cash instalment
Why invest in Gujranwala DHA?
To acknowledge you about investing in the DHA Gujranwala project, you need to know that Gujranwala has already determined that it needs a modern society. Many people look forward to building homes in the future. As we know, It is designed to facilitate you through a number of intellectual strategies or plans. Moreover, you need to know the price of the plots in other areas of Gujranwala.
The Cantt has offers a generally expensive living area. However, the plot price of 1 Kanal in the most area is around 20 million (2 Crores). Secondly, the only society that is worth living in Gujranwala is City Housing which demands a very high rate. Where 1 Kanal plot is roughly between PKR 12 million and 15 million. It is clear that the price of DHA will be rise than other society in Gujranwala, which will be a very attractive investment.
Future Prospect
A project delayed due to land procurement. That's why the price is always lower than the DHA Multan.  DHA is now working hard to complete the process as soon as possible and launch the project. In short, it has high potential growth over the next few days. The prices of the file could be higher than DHA Multan, once the project gets a solid foundation.
Hence, If the balloting will be done in the next year, so the price of the plot goes up to 75-85 Lacs, and over 130 Lacs close to possessions. If you are a local resident than its best to buy to hold it for the long term and build a house in the future or sell it after possession.  In other words, If you are not a resident and looking for the maximum return in a short time.
The best time to buy a plot before balloting and the best time to sell it in 6 months to 1 year after balloting.
Buy a good location plot after the plot ballot. But, the best time to buy may vary depending on market conditions. Rather, it is a time when the market is slow and it is difficult to find buyers. Take advantage of the situation and buy a good location plot and sell it before possession.
Final Verdict
DHA Gujranwala is probably the most promising project at the moment. With the main GT Road front, the project has the best possible access route which is unparalleled without question. With cities like Sialkot, Gujrat etc being in such close proximity the project provides massive pull to investors. Ideal location with a booming future ahead. The project is seeing a lot of movement investment-wise lately so the sooner you get into it the better. DHA Gujranwala promises to be the leading society with regards to living standards, the project provides perfect timing for investors looking to hold their investments for a substantial time period.
Take The First Step Towards The Right Direction
Any query or concerns regarding project
Lahore Updates of DHA Gujranwala