DHA Gujranwala File Prices | Development Updates
DHA Gujranwala is nationally perceived corporate organization that has endeavoured to provide; to the people of Pakistan, an opportunity to live the inventive models of modern lifestyle. Furthermore, the Project is introduced by modern designs in the construction of houses, infrastructure and essential associated facilities. While it is located in central Punjab, Gujranwala is an industrial hub of Pakistan and is in close proximity with the cities of Sialkot, Gujrat, Kharian and Jehlum. Particularly designed to facilitate who desires to lead an attractive and peaceful life with the majority of its viability.
DHA Gujranwala almost comes with all necessities of life including 18 hole golf course, commercial mall, sports complex, business square, peaceful, hygiene environment and security guarantees. Therefore it will give you a standard living lifestyle to its residents i.e, international standard school and colleges, world standard hospital, recreational Parks etc. Gujranwala also has designed to meet the High-Quality Development standards which include.
Wide Roads
Underground Electric Cabling
water filtration plants
successful sewerage system
24 hours security system
Beautiful parks
Demographics
Gujranwala very populated city in Pakistan with a population of nearly 3 million. Therefore known as an industrial city as huge business background and community. Right now just a few regulated societies exist in the region which includes DC colony and City Housing. Therefore DHA is developed here with a plan to overcome this enormous gap of modern first-class housing societies, as offered by DHA.
But we must think about the surrounding area of DHA Gujranwala. While its nearness with Lahore, Sialkot, Wazirabad and Gujrat. Besides, it offers an opportunity for investment in the general region and offers an attractive real estate investment opportunity for the local people.
DHA Gujranwala Location
It is situated close to Rahwali Cantt Chenab gate while it is 8 to 12 Km far from the main Gujranwala city. It has several entrances from GT road and also accessible from GT road and Gujranwala Cantt.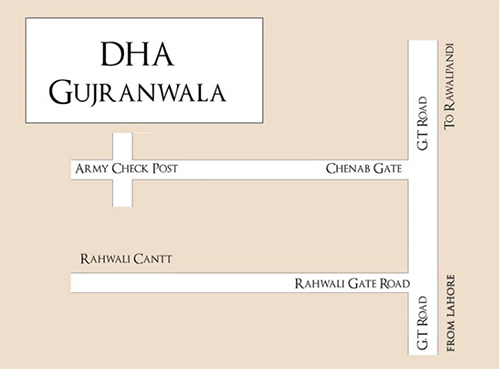 DHA Gujranwala Files
Hence it offered just 10 Marla and 1 Kanal residential files are available for sale on cash instalment
DHA Gujranwala Payment Plan
| | | | | |
| --- | --- | --- | --- | --- |
| Plot size | Processing Fee(non-refundable) | Down payment (within 10 days of balloting) | 7 Quarterly Instalments | Total price |
| 5 Marla | Rs-3000 | Rs 300,000 | Rs-242,860 | Rs 2,000,000 |
Therefore, After the balloting, the successful member should pay the Down payment amount of the plots inside 10 days of balloting. Afterwards, the rest of the amount will pay through 7 quarterly installments.
Why invest in Gujranwala DHA?
To acknowledge you about investing in the DHA Gujranwala project, you need to know that Gujranwala has already determined that it needs a modern Housing Societies. Many people look forward to building homes in the future. To get familiar to it, you need to know the price of the plots in other areas of Gujranwala and know how to pay for DHA. As we know, DHA Gujranwala is designed to facilitate you through a number of intellectual strategies or plans.
The Cantt has offers a generally expensive living area. The price of a 1 Kanal plot is about 20 million (2 crores). Secondly, the only society that is worthy of the living society of Gujranwala is City Housing which demands a very high rate. The 1 Kanal plot is roughly between PKR 12 million and 15 million. It is clear that the price of DHA will be rise than other housing organizations in Gujranwala, which will be a very attractive investment.
Future Prospect
DHA Gujranwala is a project that is basically delayed by land procurement. The most obvious reason is that the price has always lower than DHA Multan. DHA now emphasizes the completion of the process and launches the project as soon as possible. DHA Gujranwala has a high potential growth over the next few days. The file price can be higher than DHA Multan once the project gets a solid foundation.