Eighteen Islamabad is a grand housing project, in the capital of Pakistan. It is an incredibly designed project with the highest standard of living in Pakistan. The project will provide top-class amenities,  state of the art infrastructure, and a posh environment. It is a brilliantly planned housing scheme with elegant villas and splendid apartments.  These are impressively designed with luxury, style, class, and amazing amenities.  In addition, great views of the 18-hole golf course, lakes, fairways and top leisure facilities make Eighteen Islamabad a world-class destination. An important feature of this project is the 18-hole golf course, a business district consisting of several office buildings and a lavish shopping mall, a high standard schools and state of the art hospitals.
Eighteen Islamabad | Price | Payment Plan | Plot For Sale | Location | Map | 2023
It is a posh joint real estate project of Ora Developers, Saif Group and  Kohistan Builders and Developers in the Eighteenth Sector of Islamabad close Motorway.  These are one of the most renowned, trusted and cutting-edge entrepreneurs from Egypt and Pakistan. In other words, these groups have come together to set new living trends in Pakistan.
Kohistan Group who has successfully delivered 'Zarkon Heights' in Islamabad's G-15 sector also a part of this grand project.
Ora Developers is owned by an Egyptian Billionaire Mr Naguib Sawiris, Owner of Mobilink. The very rich person is again in Pakistan with an idea to change the real estate sector of Pakistan with best in the class development project to be specific "Eighteen Islamabad".
Ora developers are a highly trusted & credible name for top-class development projects around the world, including; Nocera Ltd. in London, Ayia Napa Marina in Cyprus, While Nile City Towers, Pyramid hills, Zed, North coast in Egypt.
Launch of Eighteen Islamabad
However, the official launch took place in December 2017 by the management. The project started with a grand classy event attended by celebrities from around the world involved in this project.
Master Plan
This top-notch project will spread over an area of ​​2.7 million square yards. The master plan consists of 2000 residential units, 1068 villas of various sizes, and more than 900 units of apartments, along with commercial properties to aim for the upper and lower class of society. These smart villas and apartments are surrounded by lush, green open space and modern amenities. Eighteen Islamabad brings splendid clubhouses, medical centers,  five-star hotels, luxury retail stores, and business centers.
Eighteen is a gated and secure community, smartly plan to provide a safe and serene environment in lush green surrounding. In simple, you will find all the top features of comfortable living at a modern resort.
The plan was conceptualized by Calisson RTKL and developed by the famous urban planner WATG. The international standard golf course is also designed to be part of this luxurious housing project by IDG in the UK.
Eighteen Islamabad Location
It is located on the Kashmir Highway, Just a few Km away from the Islamabad Lahore Motorway and Islamabad New International AirPort. The project is located right next to University Town, one of the oldest housing societies in the area. The location is incredible as it gives simple access to Motorway, New Islamabad Airport and all parts of Islamabad and Rawalpindi through Kashmir Highway and GT Road.
The location of Eighteen Islamabad, you can see on the map as follows:
Easy Access
You can go very easily to this grand project, through Kashmir Highway and also accessible from GT Road. In close proximity societies such as Taj Residencia, B-17 Multi Gardens & Top City.
Eighteen Islamabad Status
The project has a clear NOC by the Rawalpindi Development Authority (RDA).  The total land of the project of the 700 acres has approved by RDA. The whole land has been acquiring by the society.
Project Details
The project will spread over an area of 700 acres of land. Eighteen Islamabad is planning to make 2000 residential units, 1068 villas,  900 apartments and also bring high commercial properties.
The elegant villas are available in 10 Marla, 1 Kanal, 2 Kanal, 4 Kanal, and 8 Kanal sizes. These villas will also smartly design with the top features, including the stunning views of lush green fields.
The Club –  Having 18 hole golf course, bird's-eye views with all leisure facilities.
Resort – A 5-star boutique hotel with 150 rooms that can accommodate up to 1000 people.
The Square- Luxury retail and Entertainment Facilities
Core – Wordclass Business Hub
The Clinic –  State-of-the-art healthcare facility.
Living in Eighteen Islamabad
Eighteen offers a range of luxury living options that suitable for all sizes of families.  For couples, there are chic, city-style apartments,  smartly designed wide-angle, marvelous views of the golf course. For large families or those looking for more space, Eighteen offers luxurious villas. In addition, these elegant 4 and 8 Kanal villas are superbly designed in a unique and modern style, including the best place for residence.
The Heights At Eighteen
Spread across 28 pavilion-style buildings, with no more than four apartments per floor, up to 7 floors. The Height feature residential units consisting of studio, 2, 3 and 4 bedroom apartments suitable for couples and limited families. These luxury apartments face the lush greenery of the golf course.
Eighteen Islamabad offers the following types of luxury apartments:
4 Bedroom Apartment (4090 sq. ft, 3 Parking Spaces, 5 Bathrooms, 1 Powder Room)
3 Bedroom Apartment (2192-2207 sq. ft, 2 Parking Spaces, 4 Bathrooms, 1 Powder Room)
2 Bedroom Apartment (1668-1798 sq. ft, 1 Parking Space, 2 Bathrooms, 1 Powder Room)
1 Bedroom Apartment (968 sq. ft, 1 Parking Space, 1 Bathroom)
Studio Apartment (693 sq. ft, 1 Parking Space, 1 Bathroom)
Following are the prices of luxury apartments

Villas At Eighteen
The eighteen villas are the most luxurious and elegant property, consist of 1/2, 1, 2, 4 and 8 Kanal villas. Moreover, All villas are facing the lush green golf course. In addition, best suited for a large family or an individual looking for spacious accommodation, these villas ensure the most secure and remarkable living.
8 Kanal (7 Bedroom, 8 Bathroom, 6 Parking Spaces, Swimming Pool)
4 Kanal (6 Bedroom, 8 Bathroom, 3 Parking Spaces, Swimming Pool)
2 Kanal (5 Bedroom, 7 Bathroom, 2 Parking Spaces, Swimming Pool)
1 Kanal (5 Bedroom, 6 Bathroom, 2 Parking Spaces)
10 Marla (4 Bedroom, 5 Bathroom, 2 Parking Spaces)
Besides these villas are available in various layout plans, so you can pick your preferred layout design at the time of booking.
 Layout Plan
Following are the layout plans of  Villas
Following are the prices of Luxury Villas:
Note:
Payment must be made in the name of Elite Estates Pvt Ltd.
Two passport photos and a copy of the CNIC required at the time of booking
Possession of villas after 3.5 years
You can book your apartment or villa at Eighteen with only 15% initial installment, while the remaining amount will be payable with an easy installment plan of 4 years for your ease. Following is the payment schedule of apartments and villas
The Core At Eighteen Islamabad
The most contemporary commercial offering is The Core when it comes to twin cities. Consisting of 13 distinctively built units this business centre is a montage of modern and local architecture. Location of The Core also provides an added impetus of being in very close proximity of Islamabad International Airport, which is about 15/20 mins away. Be it Corporations or local businesses The Core provides the perfect base camp to launch commercial activities.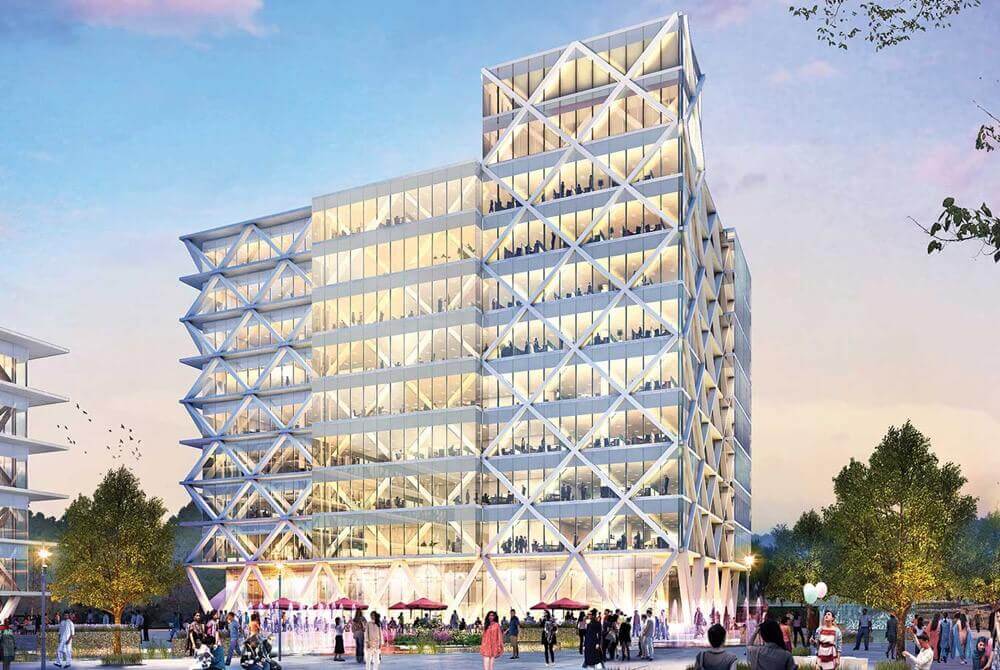 The Club
An 18 Hole PGA Standard golf course is the mainstay of Eighteen Islamabad, One which will be the hub of all leisure activities. Be it entertainment, dining the views will surpass anyone has ever experienced. Rooftop dining will be an exquisite experience. Sporting facilities include a cricket pitch, squash courts, a sports hall, swimming pool, pro shop, yoga studio and a cigar lounge.
The Square
The Square at Eighteen is serving visitors and the resident's high standards of shopping facilities and dine-in centres around a welcoming and open-air square house. The selection of restaurants and stores has been landscaped to provide options for different tastes and needs, from well-known fashion retailers to those catering for more and more everyday buying, from gourmet dinings to casual patches for coffees and drinks. Bust over three levels, The Square is the name of the perfect spot for couples and families to dine, shop or take a fresh air environment.
The Resort
Eighteen offers, The Resort providing premium standards that residents would definitely enjoy in a five-star boutique hotel. It is limited to just 150 rooms, it is providing the personal and private services expected from the world's finest hoteliers. Providing a spa, gym and many other facilities like event space of hosting and catering more than 1,000 guests, The Resort at Eighteen is providing those facilities which no other Resort is providing in the twin cities.
The Clinic
The Clinic a product of Eighteen is providing its residents both emergency and non-emergency medical facilities on-site. With a highly equipped A&E unit, both inpatient and outpatient wards, also a team of specialists, The Clinic is ready to handle all medical problems directly within the development.
Main Features
The cost of this project is around $2 billion. Eighteen Islamabad is becoming Pakistan's most elegant and posh housing project. In other words,  it is a classy living community provide all top-notch amenities, style, class to its residents.  In addition, here are some top features of this grand project are given below:
Wide Roads Network
Top-class amenities
Splendid Villas and Apartments
18 Hole Golf Course
High Standard Schools & Collages
State of the art Mosque
Grand Shopping Mall
Commercial Areas & Markets
Lush Green Parks
Beautiful Lakes and Hills
World-Class Health centre
Spa, Gym and Entertainment facilities
Jazz Head office will likewise build there in future.
Pros:
Lush green areas
A top-notch society with modern living trends
Highest standard of living
All top-class amenities
Smart infrastructure and modern architecture
Safe, smart, and profitable investment
Cons:
Limited options
Very expensive
Only for upper class
The project will have a 30% of the land cost that will give by the investor, while 30% amount will be financed by the major banks of Pakistan.
Why invest in the Eighteen Islamabad:
A grand project will develop around  2.77 million square yards.
2,000 units or more (1,068 villas, 971 apartments)
28 pavilion-style apartment buildings
High rise villas
18 golf course spread over 7,200 yards
40,000 sq. ft. Clubhouse with Cricket Ground along with Pavilion, Squash Court, Tennis Courts, Sports Club, Swimming Pool, Pro Shop, Yoga Studio under the umbrella of the Club at Eighteen.
A 560,000 square feet high-end luxury shopping mall has 1200 parking lots on Eighteen Square.
1.2 million square feet of the business park Eighteen's core with 13 unique office buildings.
110,000 square feet of medical facilities at the Clinic at Eighteen, providing on-site emergency and non-emergency services
150 rooms boutique hotel with halls and event spaces for more than 1,000 people.
Take The First Step Towards The Right Direction
Any query or concerns regarding project