Where To Buy A Commercial Property in DHA Lahore?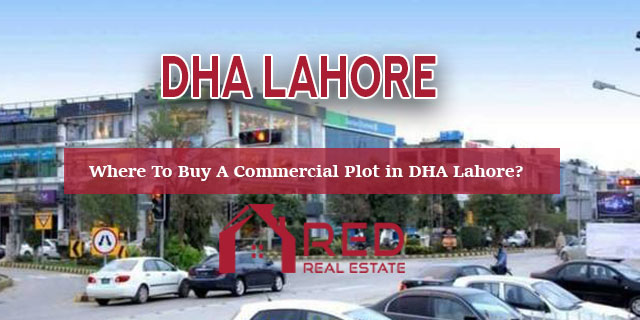 Where To Buy A Commercial Property in DHA Lahore?
In DHA Lahore the commercial property is the best property option that provides profit on investment, and also a top choice for rental income. In other words, the commercial market is very profitable in almost each and every aspect of investment.
DHA Lahore is spreading on a huge area and offering different commercial opportunities from which you can easily choose a perfect place. It gives a variety of options according to the nature of the business. But here we are informing you the top details and useful suggestions that which area is best for rental income, for your own business and investment purposes.
To Start Your Business
The Investment in a commercial property of DHA Lahore, the important thing to know the nature of the business you are planning.  If it is a retail outlet, you should have knowledge about what kind of retails outlet is it.  If you are looking to start a business of tiles and furniture than you can buy a property in Phase 4 DD and FF Market,  Phase 6 MB and CCA 1.
To Open a New Cafe or Restaurant
If you are interested in opening a new cafe or a restaurant. So that it would be easy for you to choose from:
Phase 2 CCA T Block and near Lalik Jan Chowk suggested for a Restaurants, Cafes, salons
Z and Y Block of  Phase 3 market has  recommended for a food outlet and Boutiques
DD and FF Blocks of Phase 4 are highly recommended for bakery, restaurants and stores.
4 Marla and 7 Marla in  H block market
DHA Phase 5 most solid commercial markets highly recommended.
To get Rental Returns
if you to consider the capability of investment, If you are looking to buy a commercial property for high rental yield. These following areas consider as the best areas for rental returns.
Phase 3 Y and Z block
DHA Phase 6 MB
Phase 5 CCA
However, all the above mention areas are offering the commercial plots of 4 Marla and 8 Marla.  Instead, making an investment in the plaza, buy a plot in Y Block and Z Block is a good option. Besides buying an 8 Marla commercial plots in Y Block is more recommended than 4 Marla Commercial Plots.
Commercial Property For Investment Purpose 
Here we are sharing some profitable investment option that will return you with a good profit. So that it would be easy for you to choose the mention below areas.
Phase 9 Town
DHA Phase 6 CCA 2
Phase 8 Broadway
Phase 8 Park View file
DHA Rahbar Phase 2
The Plots that are in the back from the main road is recommended for the investment in commercial to earn a good profit. As the prices of these commercial plots are quite reasonable and about half as compared to the commercials on the main road. But making an investment in these plots is also profitable as the prices will definitely get high after some time.
Buying 4 Marla commercial plots of DHA Rahbar Phase 2 is highly preferable for a short term investment. E Block has also recommended as the price are low and it will increase after the development.
Red Marketing & Real Estate is your one-stop-shop for all your real estate needs.