Dream Gardens Phase 2 lahore | Payment Plan | House For Sale
by admin
September 18, 2019
0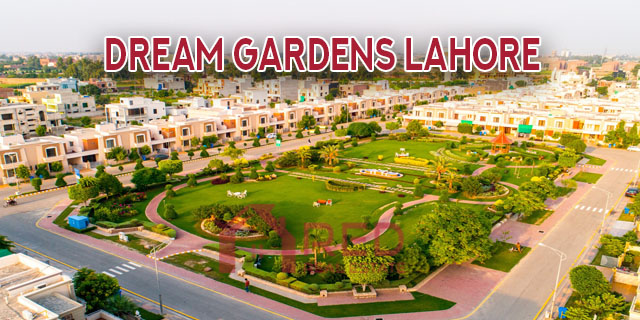 Dream Gardens Lahore | Payment Plan | Location | Plots For Sale
Dream Gardens Lahore is a housing project by Izhar Monnoo developers spanning over 4000 Kanals. Which provide a peaceful life with all the luxury and necessities of life. It was announced on September 2011 over an area of 900 Kanals. Phase 1 was delivered before the time frame in June 2014, 1.5 years. After the success of Phase 1, and now over 300 families living.  Phase 2 is planned on an area of ​​1600 Kanals
Dream Gardens Lahore Location
Dream Gardens is located in Defense Road, 1.5 km from Raiwand road in Bhoptian chowk. Prime location and close proximity to DHA EME and LDA. It has fully gated society with two entry point one from Defence road and other form Bahria Town Nargis block.
A direct approach to Lahore Ring Road, Raiwind Road, Thokar Niaz Baig, M-2 Motorway
Easy access to Premium Educational Institute Such as BNU, COMSAT, UOL, UCP
Phase 1
Dream Gardens Phase 1 is a huge success. Izhar Mannoo is providing a good living standard by delivering what they have committed in the meantime for the client. The plots ranging in phase 1 from 3 Marla, 5 Marla, 8 Marla to 20 Marla.
When we talk about phase 1 launching prices of 5 Marla around 2500,000. The price has risen by over 150 % within 4 years. This is also proof that the demand for good housing projects in this area is high. The project is brilliantly developed according to High-Quality Development standards.
Main Boulevard
Mosque,
School
Park,
Hospital
The commercial area fulfills the desired and needs of residents
Phase 2
Dream Gardens  Phase 2 land is fully acquired by Izhar Monnoo Group. It provides an elegant and modern lifestyle to its residents with all the necessities of life. Location is one of the most important features of the property. It is ideally located at the perfect area of Defense Road. It has a fully gated community and beautiful parks. Lahore's best universities and schools are found its close proximity. Almost all roads are 60 and 40 feet wide. The main boulevard is 150 feet wide.
Gated Community
24/7 High Security
Underground Electricity
Wide Carpeted Roads
Lake View
Jamia Mosque
Sports Complex
Recreational Parks
Community Club
Modern Architecture
Why Should Invest in Dream Gardens Phase 2
A Beautiful Project By Izhar Monnoo Developers well know real estate group of Pakistan
It offers different size of residential and commercial plots also constructed house along with flexible payment plan.
LDA Approved Housing Society.
Ideal Location and close proximity society such as DHA EME and LDA.
Secure and Potential Investment option.
It offers a secure, peaceful and clean environment to its residents.
Fully Gated Community
30 Months Installment Plan
Feature:
Secure and Gated Community
Government Approved (LDA, LESCO, WASA)
Bahria University Campus
Pak Turk School
Commercial Market
High-Quality Development
24/7 security system
Mosque
Medical centre
Community centre
Underground Electricity
Sports Complex
Corporate office
The dream garden offers both residential plots and construction houses. The Payment Plan is given below.
Dream Gardens Phase 2 Payment Plan Residential Plots
| | |
| --- | --- |
| Area (Marla) | Net Price |
| 5 | 5,407,500 |
| 7 | 7,570,500 |
| 10 | 10,042,500 |
| 20 | 17,510,000 |
| 30 | 26,265,000 |
Payment Schedule : 3 years Quarterly
Down Payment: 30% of Booking Price
Rebate : 15% Rebate on Lump sum Payment
Possession : On 5 %
*Prime Location Charges*
Facing Park/ Corner/ Main Road 60' each 10% extra of total price.
Facing Main Boulevard (150') 15% extra of total price
Dream Gardens Phase 2 Payment Plan Commercial Plots
| | |
| --- | --- |
| Area (Marla) | Net Price |
| 6 | 18,540,000 |
| 7 | 21,630,000 |
| 10 | 30,900,000 |
Payment Schedule: 03 Years Monthly/Quarterly Installments
Down Payment: 30% of Booking Price
Rebate: 15% Rebate on Lump-sum Payment
Dream Gardens Phase 2 Payment Plan Residential Houses
(MINIMUM COVERED AREA)
| | | | |
| --- | --- | --- | --- |
| Area (Marla) | Accommodation | Covered area (Sq feet) | Price (PKR) |
| 5 | 3 bed + 3 bath + PR | 1833 | 12,015,465 |
| 7 | 3 bed + 3 bath + PR | 2089 | 15,101,345 |
| 10 | 3 bed + 3 bath + PR | 2668 | 19,660,640 |
| 20 | 4 Bed + 4 Bath + PR | 4427 | 33,469,335 |
| 30 | 5 Bed + 5 Bath + PR + SQ | 5314 | 45,421,970 |
Dream Gardens Phase 2 Payment Plan Residential Houses
(MAXIMUM COVERED AREA)
| | | | |
| --- | --- | --- | --- |
| Area (Marla) | Accommodation | Covered area (Sq feet) | Price (PKR) |
| 5 | 4 bed + 3 bath + PR + SQ | 2088 | 12,934,740 |
| 7 | 4 bed + 3 bath + PR + SQ | 2425 | 16,312,625 |
| 10 | 4 bed + 3 bath + PR + SQ | 3078 | 21,138,690 |
| 20 | 5 bed + 5 bath + PR + SQ | 4902 | 35,181,710 |
| 30 | 5 bed + 5 bath + PR + SQ | 5314 | 45,421,970 |
Payment Schedule : 3 years Quarterly
Down Payment: 30% of Booking Price
Rebate : 15% Rebate on Lump sum Payment
*Prime Location Charges*
Facing Park/ Corner/ Main Road 60' each 5% extra of total price.
Facing Main Boulevard (150') 8% extra of total price
Contemporary Design
Infinite Design
Elegance Design