DHA Lahore Phase 9 Prism
DHA Lahore Phase 9 Prism presently has the biggest phase of DHA Lahore. The balloting of phase 9 prism was held may 2015 and the development work has been begun since Feb 2016. The Plot sizes available are 5 Marla, 7 Marla, 10 Marla, 1 Kanal and 2 Kanal. Facilities include a Golf course, saddle and polo club, DHA club, cinema and recreational Parks.
DHA Phase 9 Prism spread over 44000 Kanal it has 9 main entrances. phase 9 has various sectors named Sector A, Sector B, Sector C, Sector D, Sector E, Sector F Sector G, Sector H, Sector J, Sector K, Sector L, Sector M, Sector N, Sector P, Sector Q, Sector R are non-possession. Each Sector has its very own park and other residential facilities. It is located between the Ferozpur Road, Bedian Road and 10 minutes drive from Lahore Airport. Phase 9 prism is very proximate to the known localities of Lahore. It is effectively accessible from all sides of the city which makes it attractive for the investor.
Phase 9 Prism Location Map:
It situated between Ferozpur road and Bedian road and about 10 minutes drive from Lahore AirPort. These are all popular roads which increase the viability of phase 9 prism. The surrounding main development area of phase 9 prism are Phase 9 Town, M Block Phase 5, State Life Phase 2.  A direct approach to  Lahore Ring Road, Ferozpur Road and Bedian road makes it attractive for the resident.
DHA Lahore Phase 9 Prism Location Map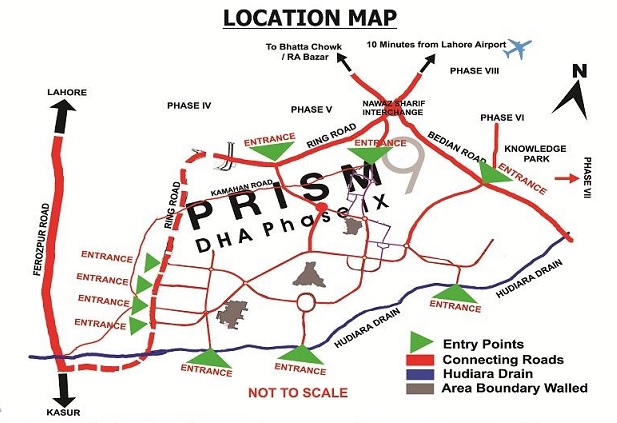 Prism Development:
The DHA has announced that development work will be completed before 2019, but I think it can be somewhat difficult to achieve that claim. In all good faith With a realistic approach, we expect the development work and ownership of DHA Lahore's 9-stage prism to be completed by 2021.
Attributes include:
Commercial
CCA Market
Sector Shop
Golf Course
Saddle/Polo Club
PlayGround
Shopping Mall
Recreational Parks
Mosque
School
Collage
Community Club (Swimming Pool, Tennis Court, Snooker Tables, Amusement, Gymnasium, Squash Courts, Banquet Hall and other Recreational facilities.)
Residential Plots:
The Plot sizes cutting available are e.g
5 Marla Plots
10 Kanal Plots
1 Kanal Plots
2 Kanal Plots
Commercial Plots:
These are following Commercial zone where Commercial Plots are available
Zone-1
Zone-2
Zone-3
Oval commercial
Main Civic Zone 1