DHA Lahore Phase 6 – Latest Update Block Prices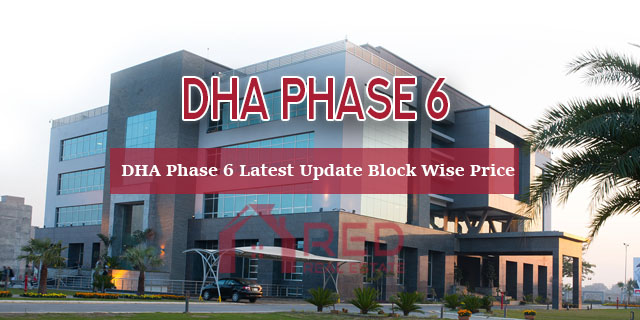 DHA Lahore Phase 6
DHA Lahore has a well-planned residential community with a hi-tech gated community.  Offers multiple options to buy property in a graceful environment. DHA has a major brand name in the country's real estate market. Well known for its premier development and construction and state-of-the-art infrastructure, and displays the latest versions of amazing architecture, luxurious homes and exciting entertainment amenities.
DHA Lahore Phase 6 has elegantly designed with the best residential plots of 5 Marla, 7 Marla, 10 Marla, 1 Kanal, and 2 Kanal as well as you can buy attractive commercial plots of 4 Marla & 8 Marla. DHA Phase 6 is a good option for secure, and long-term investment opportunity with the affordable plot Prices. However, The project also has the most attractive option for residents if you plan to build a dream home in it. Basically, DHA Phase 6 consists of 13 blocks which are fully developed. However  Blocks name after letter sets i.e, Block  A, B.C, D, E, F, G, H, J, K, LM, and N. All the blocks are designed with all necessities of modern life. Hence Security features that make this phase simply your dream destination.
DHA Phase 6 Location
Phase 6 has located at the prime location. The main entrance of Phase 6 is from Ring Road Lahore, opposite to DHA Phase 5, Lahore which makes it accessible from previous phases. Allama Iqbal International Airport is just 10 minutes' drive away. Unlike 120 ft main roads in earlier phases, its 150 ft main boulevard (MB) connects Ring Road with Barki Road.  This attractive phase provides all top-notch amenities for its residents.
DHA Phase 6 BLock Wise Prices
| | | |
| --- | --- | --- |
| BLOCK | SIZE | PRICE (PKR.) |
| Block A | 10 Marla | 1.85 to 2.05 crore |
| Block A | 1 Kanal | 2.05 to 3.15 crore |
| Block B | 1-Kanal | 2.10 to 3.15 crore |
| Block B | 2 Kanal | 6.50 to 6.75 crore |
| Block C | 1-Kanal | 1.65 to 3 crore |
| Block C | 2 Kanal | 6.25 to 6.50 crore |
| Block D | 5 Marla | 90 lac to 1 crore |
| Block D | 7 Marla | 1.05 to 1.30 crore |
| Block D | 10 Marla | 1.25 to 1.75 crore |
| Block D | 1-Kanal | 1.80 to 2.65 crore |
| Block D | 2 Kanal | 5 crore to 5.75 crore |
| Block E | 5 Marla | 53 lacs to 60 lacs (no possession yet) |
| Block E | 10 Marla | 95 lacs to 1.10 crore (no possession) |
| Block E | 1 Kanal | 1.60 to 2.25 crore |
| Block E | 2 Kanal | 4.15 to 5.50 crore |
| Block F | 1 Kanal | 1.65 to 2.30 crore |
| Block F | 2 Kanal | 5.50 crore |
| Block G | 1-Kanal | 1.85 to 2.80 crore |
| Block G | 2 Kanal | 5.75 to 6.25 crore |
| Block H | 1-Kanal | 2.15 to 3.25 crore |
| Block H | 2 Kanal | 6.50 to 7 crore |
| Block J | 7 Marla | 1.30 to 1.45 crore |
| Block J | 1 Kanal | 1.95 to 3.25 crore |
| Block J | 2 Kanal | 6.25 to 6.50 crore |
| Block K | 1 Kanal | 1.70 to 2.75 crore |
| Block K | 2 Kanal | 5.50 to 6.50 crore |
| Block L | 1-Kanal | 1.80 to 2.75 crore |
| Block L | 2 Kanal | 5.75 to 6.25 crore |
| Block M | 1-Kanal | 1.60 to 2.60 crore |
| Block N | 1-Kanal | 1.50 to 2.45 crore |