Commercial Properties In DHA Phase 5 & Phase 6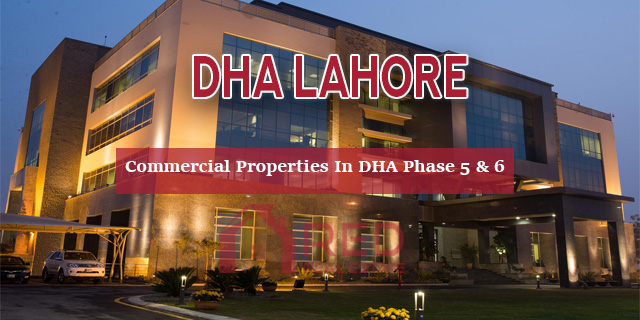 DHA Lahore is a dream place to live, but its unique facilities and the amazing features of the commercial area have proven to be the best choice. Commercial areas at different Phase offer a variety of options for purchasing commercial buildings, shops and offices. If you are interested in DHA Phase 5 & Phase 6 and want to buy commercial properties in DHA read the details below.
Commercial Properties in DHA Phase 5
The commercial area in phase 5 one of the best-developed and most popular commercial areas.  Located in an ideal location, this property is close to DHA Lahore's premier educational facilities. Such as Lahore Grammar School and  DHA Education System. It is a very busy commercial centre where you will find many facilities that meet your needs. The famous fitness centres Shape located in phase 5. Many beautiful parks that offer the best pleasure to residents.
The commercial area of ​​DHA Lahore Phase 5 has easy access to Lahore Ring Road 6 minutes drive and is easily accessible by 9 minutes drive from Bedian Road.
If you are planning to live closer to these commercials than you will have to pay around PKR 1.9 crore to 4.6 crores 10 marla houses. On the other hand, if you are looking for the best commercial properties in DHA Phase 5, many options are waiting for you.
If you are interested in purchasing the 8 Marla property in the region you can find prices for the PKR 21 crore to PKR 25 crore. However, the commercial plot of the 4 Marla is available in the price range between PKR 2.5 crore and PKR 4.65 crore.
Commercial Properties in DHA Phase 6 Commercial
DHA Phase 6 is a luxurious and well-developed region in Lahore. All top-level and basic facilities are available. There are many options to purchase and start your business with these commercials.  Besides this area,  is adjacent to the  Defence Raya Golf Club. Different Branches of the bank such as Habib Bank and Al Baraka Bank, are also part of this.  The commercial area of ​​DHA Lahore Phase 6 has easy access to Shabbir Sharif Road, 8 minutes driving distance.  However, easy access from Barki Road and only 12 minutes drive.
The 10 Marla house in the area will be available at prices ranging from PKR 2.2 crore to 4.15 crore.  If you want to be the owner of a 4 Marla commercial building, be prepared to pay PKR 10 crore by PKR 15 crore. Nearly all commercial properties sold in the DHA Lahore Phase 6 is cost over PKR 5 crore. However, 4 Marla Commercial plot in Phase 6 is available in price range PKR 3.3 crore to PKR 14.75 crore.