DHA Penta Square Apartments – Booking Details – Payment Plan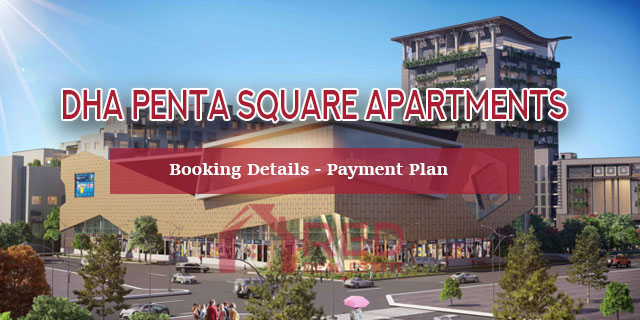 DHA Penta Square Apartment – Booking – Payment Plan
DHA Penta Square Apartment Phase 5 in Lahore declares the successful completion of the accumulation work and prepares for the installation of the Raft. As we know, DHA Lahore is a risk-free investment property and always offers a convenient payment plan for investors. However, DHA Lahore has consistently been a top choice due to its secure residential and commercial projects. Hence, Penta Square has ideal for living and great Investment option with good return of Investment (ROI).
It is an excellent top of the luxury line apartment complex at the best location in the city of Lahore. It will be a multi-storey tower that includes apartments, business units and offices. According to the DHA Authority, the booking of apartments is in progress since December 2015. However, it is an excellent opportunity to buy the entire family apartment on easy installments. With all the fantastic facilities i.e attached bathroom and furnished dining and living room.
DHA Penta Square Apartment Layout:
DHA Penta Square is a High-End Luxury Project by  DHA Lahore, It will offer 1, 2 and 3 bedroom large luxury apartments, corporate offices and retail shops. The plan is specifically designed for people who want to keep their lives and work in one place. According to the explanation,  there will be 100 apartments that accompany one bedroom in each studio, 139 apartments with two bedrooms in each and  156 apartments with 3 bedrooms for each apartment
Elegant construction, designs of the twenty-first century, deeply advanced with universal models of prosperity and security are featured with 360 whole apartments. DHA Apartments offer all the necessary management for a lively lifestyle, a business centre and a shopping centre all under the same roof. However, the map of the project consists of 6 blocks of flats  that will be specific:
A Block (A 16 story apartment Building)
B Block 
C & D Block ( Facing J Block Park)
E & F Block ( Facing Green Area)
Penta Square Payment Plan:
DHA Penta Square have launched the payment plan for 2 and 3 bedroom apartment category. This new Apartment is available on the easy installment plan of 2.5 years with 20% down payment. However, Total amount payer will get a 5 % discount on the purchasing of flats.
20% Downpayment.
15% Possession.
6.5% Quarterly Installment.
Penta Square Location Map:
DHA Lahore Penta Square is ideally located inside CCA Phase 5. Direct access to the main boulevard, neat Jalal Sons in the CCA, Wateen Chowk, Lalak Jan Chowk and Nawaz Shareef Interchange. Hence Allama Iqbal International Airport is just 10 minutes' drive away. Furthermore, A Famous Lums University has just 5 minutes away.
Amenities For The Residents:
24/7 Power Backup
71% Green Area
Squash & Tennis Courts
Swimming Pool
Gym/Spa
Hyper Market & Food Court
Indoor & Outdoor Sports Arenas
Solar Panels
Parking Management System
Dedicated Water Tanks
Dedicated Entry To Penta Square Mall for Residents