18 Green Defence Raya Golf Resort | Layout – Payment Plan
by admin
February 20, 2020
0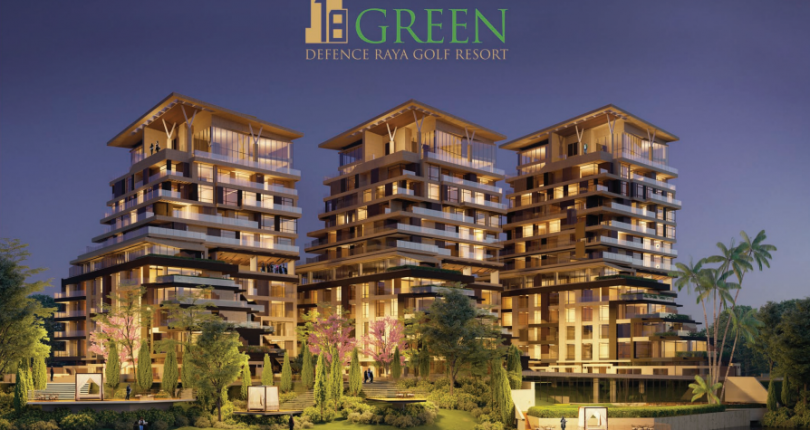 Defence Raya 18 Green Golf Resort | Layout – Payment Plan
The High standard lifestyle offered by 18 Green Defence Raya reflects the luxury and comfort expected to form the brand name "Defence Raya". The project also has a shared terrace where residents can interact with each other. In this way, you can interact and create a truly integrated community. Defence Raya has been changing the face of real estate development in DHA Lahore for over a decade.
It consists of a number of villas, apartment blocks and commercial plazas arranged around an international standard 18 hole golf course. The Defence Raya Golf & Country Club has become of the top community clubs in the country. The residential and commercial properties in Defence Raya offer great views of the golf course and easy access to the county club. With its beautiful views, ultra-modern design and wide range of property option. Defence Raya is truly the best place to live in Lahore. Now introduced, The 18Green, a condominium complex of three excellent planned towers, is set on continuing the legacy of luxury established.
What's on Offer?
The project consists of three towers with professionally designed condominiums on several floors and a double level penthouse on the top floor. It has 12-floor Lavish Residential Apartments Building spread over 28 Kanals. There is an apartment available.
1-Bed Apartments
2-Bed Apartments
3-Bed Apartments
4-Bed Duplex Penthouse
With the majority of the apartments facing lush greens of the international standard golf course.
Tower-A: G +10 Floor and the total number of Units in Tower A is 48.
Tower-B: G +11 Floor and the total number of Units in Tower B is 49.
Tower-C: G +12 Floor and the total number of Units in Tower C is 43.
Total number of apartments as per floor plan of all tower is 150
2 Lifts in each building.
In each tower one public Trace and one Breakout Trace at 5th Floor.
One Retail Shop in Tower B on Ground Floor.
18 Green Condominiums Building Specification
Structural reinforced concrete frame structure/slab
External & Internal Walls – Combination of solid & Hollow blocks
Metal Roof
False Ceiling – Gypsum
Fire Rated Wooden Door
Finishes of Ceramic & porcelain tiles
Fully Serviced Apartments
Whether it is an international standard 18-hole golf course, high-end security system, modern maintenance system or recreational facilities.
Ample Parking Area
Centralised Laundry Services
Driver's Accommodation
Concierge Services
Convenient Grocery Store
Swimming Pool
Gymnasium
Heating & Air Conditioning
Complete Power Backup
Running Hot Water
Location Of Defence Raya 18 Green Condominiums 
Easy access to Lahore Ring Road.
In close proximity to Premium schools i.e Beaconhouse Newlands
Only 3 minutes drive from Phase 6 Main Boulevard
10 minutes drive from LUMS, and  Shahbaz Sharif Government Hospital
15 minutes drive from Allama Iqbal International Airport
Layout & Design
The design story told by the interiors of 18Green Condominiums is the one that reflects the ultra-modern planning and attention to detail involved, making it ideal for the lifestyle most people aspire to. Every aspect of the interior has been planned in such a way that life will be comfortable.
The Joy of Convenience
This condominium complex will allow you to experience a hassle-free life with world-class amenities for its residents. More, all the necessary safety protocols have also been ensured to maintain their peace of mind.
Fitness At Your DoorStep
Residents of 18 Green Condominiums do not need to go to a country club for swimming and fitness activities. There is a swimming pool and gym on the site and is intended for project residents. Both of these are fully equipped with all modern facilities and will be maintained regularly.
State Of The Art Structure
When you come to 18 Green Condominiums, you will be impressed by the appearance. It consists of three towers, arranged in ascending height, and has a unique height. The building is designed in a completely different way from the standard apartment complex.
International standard of construction to ensure reliable and comfortable
High-Quality Structure & High Class  finishes
Earthquake Resistant Structure
Facilities and Amenities
12-Kanal Grand Piazza
Readily available dining options
Wide pedestrian walkways
Dedicated basement parking
A premium shopping Mall
Rooftop view with a splendid view of the Golf Course
Spacious Car Porch
Two rooms for Domestic helpers
The lush green view of Golf Course
Clubhouse
18-hole international standard Golf course
Why Defence Raya is Investment Worthy?
Prime location, located right in the heart of Phase 6, DHA Lahore
A joint venture between DHA Lahore and BRDB Developments
This project in a prime location enjoys the Calm surroundings of Defense Raya Golf Resort.
Safe and profitable investment opportunities in Lahore
BRDB Developer is a prominent corporation in Malaysia and has a reputation as a trusted name for high-end real estate developers.
Gated and secured community
The whole project complies with the international standards of development.
Transparency in documentation with allotment letter from DHA
Expect 40-45% price rise for the next two years for Condominiums
18 Green Defence Raya Payment Plan
Book 1, 2 & 3 Bed Luxury Apartments on 30% Down Payment with affordable 11  Quarterly & 33 Monthy Instalments. Make it easier to pay for this lavish apartment.
Notes:
One Car Parking Space is allocated to 1 & 2 apartment residents
Two Car Parking Space is allocated to 3 apartment residents
Construction Based Instalment plan also available.
Balconies and terrace have included in the total area.
premium will be charged on prime location and respective floor.
DHA & BRDB Premium Redfiened
A joint venture between  DHA Lahore and BRDB Developments Sdn Bhd (BRDB). BRDB's first overseas venture with DHA Lahore in Pakistan, Which significantly marks Pakistan's first master planning community at a golf resort known as Defense Raya. Besides the project built around the lush greens of an 18-hole international standard golf course. Defence Raya spans 400 acres of beautifully decorated luxury home developments,  prestigious golf and country clubs as well as a high-end commercial centre.
BRDB Inspired By The Richness Of Life
BRDB Developments Sdn BRDD is a source of inspiration by the rich life itself. The BRDB has been one of Malaysia's most successful and trusted luxury real estate developers for over 50 years. BRDB's premium development status itself has won many prestigious local and international awards. In the international arena, BRDB remains competitive by developing key prestigious projects in Pakistan, Australia, United Kingdom and Oman.
Take The First Step Towards The Right Direction
Any query or concerns regarding project