AL Noor Orchard Lahore | ( Plot Prices ) | Location | Map | Latest Update 2022
Al Noor orchard is a housing society near Faizpur Interchange on the main Sharqpur Road Lahore. It is providing 3,5,10 Marla and 1 Kanal residential villas & plots that are popular in the competitive market due to the well-crafted architect. The property is being sold on fair terms and conditions. Whether you are a salaried citizen or an investor, AL Noor Orchard has options for all in one go. You must not fret about your hard-earned money. The prime concern is that every project has been approved by the Lahore Development Authority.
Read More: Park Lane City Lahore
(#33  [ Al Noor Orchard  Marina Sports City ] – New Deal )
Al Noor orchard Lahore launched a new block with the name MARINA SPORTS CITY. Development of this block will be carried out by Surbana Jurong, a  Singapore development firm. This block offers the best residential plots at a very affordable price. 3 Marla, 5 Marla, 10 Marla and 1 Kanal residential plots are available for sale. These offered the best plots with an easy installment plan of 5 years. You can easily book your property with a 10% down payment of the total amount. In addition, a 10% confirmation amount will be payable within 6 MONTHS. However, The remaining amount will be paid in installments. Check the complete payment plan below:
New Deal: Marina Sports City in Al Noor Orchard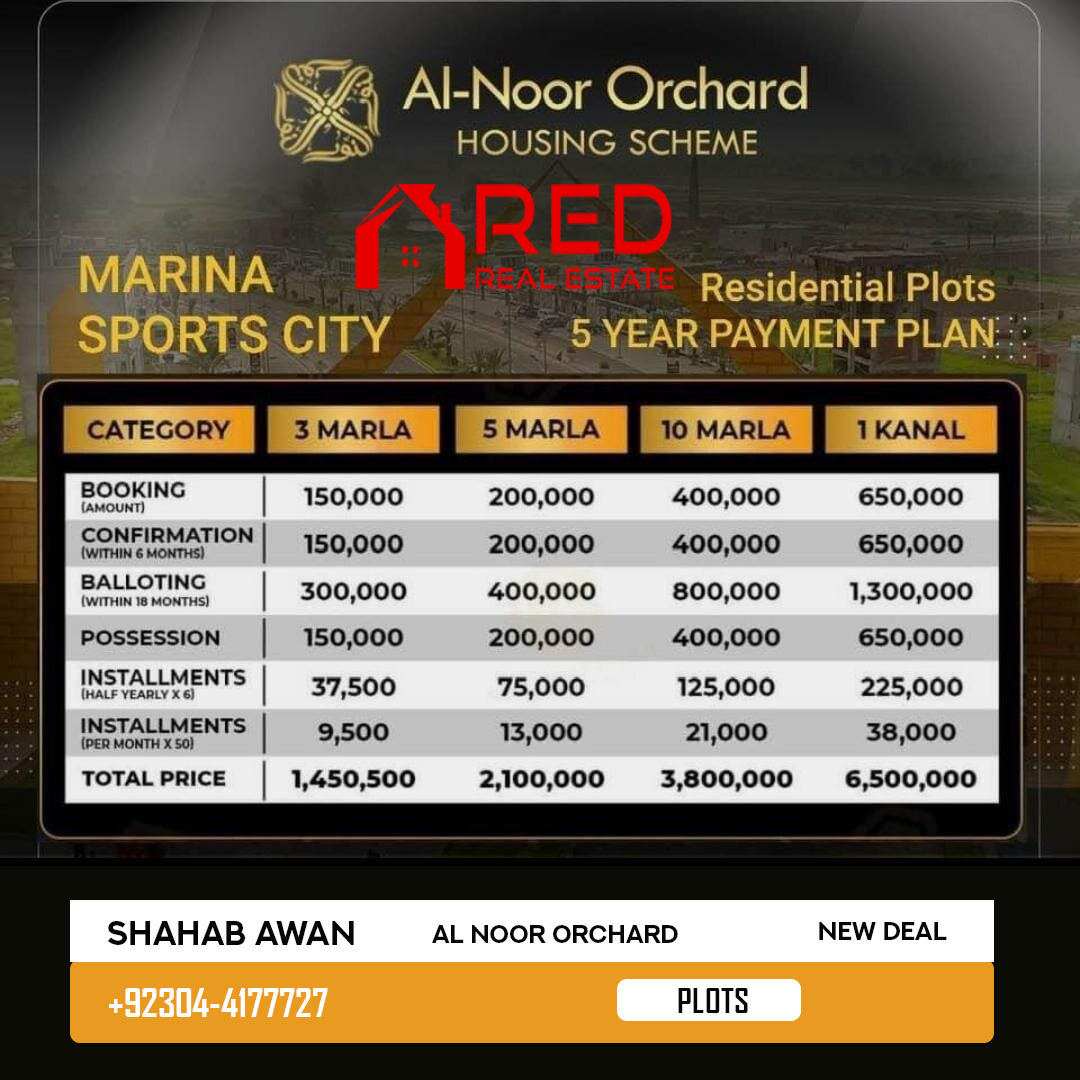 Real estate is a smart choice of a safe investment. Al Jalil developers is an efficient real estate company that guarantees a profitable yield on your investment. Having headquarter in Lahore Al Jalil, developers have smashed the records of success in real-time investments and returns. It's a brand to be relied upon blindly. Al Jalil Developers is delivering state-of-the-art infrastructure for the last two decades.
Your confidence and satisfaction are our valuable assets.
(#1 AL NOOR ORCHARD LAHORE LOCATION )
The location of the real estate property is very significant. It is a very opportunistic housing society because it is situated at the most advantageous point of the walled city. The immediate improvements in the Al Noor orchards will re-energize the community. It's the best time to invest in Al Noor Orchard residential plots because
It is on walking distance from the well-acclaimed Al Jalil Gardens housing society.
Just 2-3 km away from Lahore Ring Road.
It meets the renowned Faizpur interchange only at 3 Km.
Easily accessible by all the significant roads i.e Lahore Ring Road, GT Road, Orange Line, Multan Road
It is located on 2-3 minute drive from the Karachi – Lahore Motorway interchange
(#2 CATEGORIES OF RESIDENTIAL [ PLOTS ] AND [ VILLAS ] )
Planned with insight and built from an investment point of view, the Al Noor orchard is a dream-land to live. In an attempt to boost the quality of life of its investor, Al Jalil Architects is launching a state-of-the-art housing society in Lahore.
Isn't it amazing if you can dream a residential plot with having 2 lacs in your pocket?
Offers for booking of 3, 5,10 Marla and 1 Kanal plots are open.
Al Noor orchard is the realization of dreams to own house at the most reasonable prices through highly lucrative instalment plans.
(#3 Payment Plan of Al Noor Orchard Lahore )
Al Noor Orchard plan comes with an easy installment plan for your ease. They are featuring the best residential plots and villas properties in the prime location of Lahore. It will offer you buy the best properties at the best prices. However, Plot Prices are affordable for a common man giving off multiple living standards.
Development Charges included.
10% discount offered on full payment.
10 % Extra charges for Facing Park and Corner Plot.
Al Noor Orchard has recently launched a new Deal in West Marina Block.  It is the new and topmost attractive deal of residential plots in Al Noor Orchard Lahore.  West Marina is the new Block, Where 3 Marla, 5 Marla, 10 Marla and 1 Kanal best residential plots for sale in it. These plots are available on a flexible payment plan of 5 years.  The most attractive feature in this new deal, For the first time they launched 3 Marla plots. Affordable plot prices and the easy payment plan of 5 years, it is truly once in a lifetime opportunity. The demand for the property is very high at this place.
Read More: AL Noor Orchard West Marina
(#5 [ Al Noor Orchard ] – D BLOCK – 3 YEAR PLAN )
It is another attractive deal and best investment opportunity, Where 5 Marla, 10 Marla and 1 Kanal residential plots are available at a very affordable price. All these plots are available at 3 Years payment Plans with 30 monthly and 6 half-yearly for your ease. However, development work is in full swing in D Block.
(#6 AL NOOR ORCHARD VILLAS )
They launched lavish villas on easy and low-budget installment plans and one of the most attractive deals. 3 Marla and 5 Marla villas are offered at the best price on ease of 3 years installment plan. This is one of the best opportunities to get the most suitable villa with all the amazing amenities. The prices of these villas are best to invest in.
(#7 MAIN FEATURE AND AMENITIES )
Imagine coming home that has all the amenities needed to live a prosper and contended life. Al Noor orchard gives you a perfect chance to enjoy the lifestyle you love the most.  Some of the top amenities are attached to the Al Noor orchards.
LDA Approved
Well Planned & Gated Community
State Of The Art Town Planning
Lush Green Grassy lawns
Underground Electricity
24/7 power supply
210 Feet Boulevard
Parks, Gym, Jogging Trails
Grand Mosque
Premium School
Best Health Facility
Commercial Area
Lush Green Parks
Community Club and Mini Zoo