New Metro City Mandi Bahauddin Location Map Disclosed
by admin
December 22, 2022
0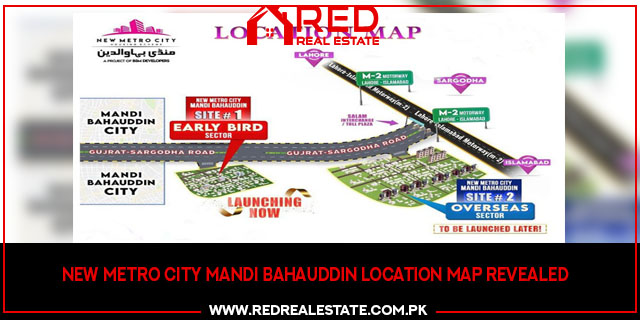 Red Real Estate is sharing the surprising information with investors that New Metro City Mandi Bahauddin has officially disclosed the location map.
Read More: New Metro City Mandi Bahauddin Coming Soon
In the early stages, the New Metro City Mandi Bahauddin Early Bird Sector launched on Thursday, December 22, 2022. Moreover, It is one of the top-notch sectors of this society and will be fully developed within 5-6 months. In addition this sector will enjoy the best location and beautifully located a few minutes drive from Gujrat – Sargodha Road.
Also in phase 2, the authority will plan to launch an Overseas Sector which will be located on the Gujrat – Sargodha road near the M-2 highway. However, it is important to mention that the management team will provide detailed information about the overseas sectors to investors after the early bird sector booking time frame close.
Stay connected to RED REAL ESTATE for more updates.