Electric Energization of Rumanza golf community by DHA Multan | Update 2022
by admin
March 28, 2022
0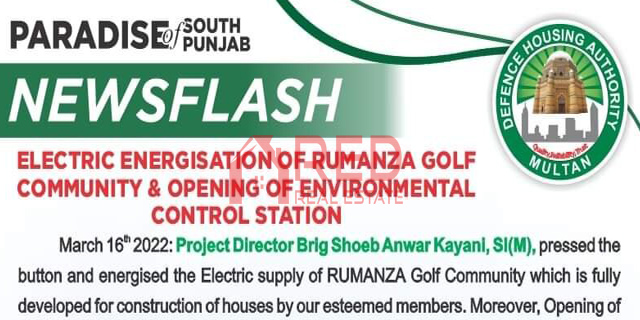 Electric Energization of Rumanza Golf Community & Opening of Environmental Control Station
As per the latest update, On 16th March 2022, Project Director Brig Shoeb Anwar Kayani pressed a button and powered up the electricity supply to the Rumanza Golf community. This community has been completely developed and ready for the construction of houses. Moreover, environmental monitoring stations have also been introduced into society for environmental protection.
Read: Zong BTS Tower Installed by DHA Multan in Rumanza, Sector M
He said that DHA Multan has always strived to provide a high-quality service to its members. State-of-the-art monitoring stations help authorities take action to protect the environment. Management tries hard to do all possible efforts to provide high stranded sustainable environment. Our facilitated lifestyle is influenced by our healthy environment. We are committed to maintaining a clean, secure and healthy environment.
Read: Mega Spring Plantation Drive Inaugurated by DHA Multan
DHA Multan has a clear vision and focuses on developing a smart, environmentally friendly, clean, green and serene living environment through various global cooling and environmental control activities.